Short-term disability insurance
Protection by your side while you get back on your feet
What it does
Provides a monthly payment, equal to a portion of your salary, that you can use however you want. Check with your benefits representative for your company's specific plan details
How it works
We will start sending regular payments for a specific period of time once your case has been approved. We'll just need to receive notice that you are unable to perform your job function and the supporting medical documents to help prove that. Payments will begin once you've been out of work for a set number of days, referred to as your elimination period.
What it doesn't do
This benefit does not provide payments for as long as you are disabled and doesn't provide job protection. This coverage typically provides benefit payments for the first 13 or 26 weeks only, depending on the plan. For longer term coverage consider Long-Term Disability insurance.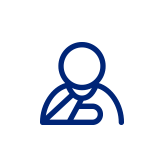 Every 7 seconds a working-age American suffers a disabling illness or injury that will last at least one month.1
1Council for Disability Awareness, Long-Term Disability Claims Review, 201
What is short-term disability insurance and why is it important?

Short-term disability insurance can provide peace of mind, because it provides you with replacement of income if you become disabled through illness or injury, or have a baby.

How does short-term disability insurance work?

If you have short-term disability insurance and are determined to be disabled, you typically start receiving benefit payments after a short waiting period depending if you have suffered an accident or sickness. Those benefits vary based on your disability and can last from several days or weeks up to a maximum period of 26 weeks, depending on the language in your policy. Your benefits equal a percentage of your earnings and can be used to pay for any expenses you might have.

How do I get short-term disability insurance?

You become eligible for coverage when you've worked for your employer for a certain amount of time – typically 30 days to six months, depending on the state in which you work.

Do I pay for short-term disability insurance or does my employers?

Your employer may typically either pay all or a portion of the premium for your short-term disability coverage.

What type of disability qualifies under my short-term disability policy?

To qualify, you must give birth, or be unable to work due to an illness, injury or accident that is not related to work.

How long can I receive short-term disability benefit payments?

Depending on your policy, you may be eligible to receive benefit payments for up to 26 weeks if deemed to be disabled. Anything longer than that would be paid by a long-term disability insurance policy.

Long-term disability

payments typically start after short-term disability payments end, and can last for as long as you are disabled up to your normal retirement age.

If I return to work after receiving short-term disability benefits, then go out again for the same diagnosis, do I have to wait for benefits to begin again or will my benefits start right way?

If the same disability recurs within a certain amount of time, you don't have to satisfy the waiting period again, so your benefits would begin right away if you are determined to be disabled under the terms and provisions of the policy. If a new disability occurs, you will need to satisfy the waiting period before you can receive benefit payments if you are determined to be disabled under the terms and provisions of the policy.

What is an elimination period?

It's a waiting period between the time when your disability begins and the time when you begin receiving benefit payments during which time you must remain disabled.

How much disability insurance do I need?

That depends on your needs and what percentage of your salary you think you would need if you were unable to work.

How do I get disability insurance?

Typically you would get it through your employer, though you can purchase it on your own. It tends to be more expensive if you purchase it on your own.

What does it mean to be disabled?

Being disabled means you have a physical or mental condition that limits movements, senses or activities. Check with your benefits representative for your company's specific plan details.

What can I use disability benefits payments for?

You can use the payments for anything you see fit. They can help cover any medical expenses, you can use them to pay day-to-day expenses, or anything else you want.

Are there disabilities that aren't covered by the insurance?

Every policy is different, but typically short- and long-term disability insurance will not cover things like intentionally self-inflicted injuries, loss of professional or occupational license or certificate, or injuries that happened while committing a crime or during war or an act of war, whether its declared or undeclared. It also won't cover pre-existing conditions, like a disability you had before you signed up for the policy.

Will my disability benefit payments be taxed?

They can be. If your employer pays the premiums for your short-term disability insurance, the benefit payments you receive can be taxed. But, if you pay the entire premium, you may not be required to report the benefit amount to the IRS. Please seek advice from a tax or other qualified professional.

Does workers' compensation or other government benefits affect my disability benefits?

If you are receiving income from another insurance policy, retirement benefits or a government program, such as workers' compensation, your disability benefits may be reduced.

How much will I receive for disability benefits?

The amount you receive depends on your pre-disability earnings and the benefit percentage allowed in your policy. You can elect for your benefit payment checks be mailed to you either weekly or monthly.

When should I file a claim?

As soon as possible after you've been disabled. If you have Short- or Long-Term Disability Insurance from Equitable**, you can obtain a claim form from your employer. If your disability is scheduled, such as surgery or child birth, you can file a claim prior to the event to help speed up the process.

What information do I need to file a claim?

You'll need your personal contact information, work schedule, reason for not being able to work, last day worked, first day of missed work, information about your condition and the contact information for your treating physician.

This varies by carrier. If you have Short-Term Disability from Equitable**, you can either use our telephonic claim filing process by calling (877) 854-5662.

If you have Long-Term Disability from Equitable**, we will coordinate it if they are the insurer on both policies. If they don't insure your short-term policy, you will need to fill out and send a claim for to the Group Claims Department address above.

Once I've filed a claim, how long does it take to get a decision?

This varies by carrier. If you have Short- or Long-Term Disability from Equitable**, you'll typically have a short-term disability claim decision within 10 business days and a long-term disability claim decision within 30 business days from when we received the appropriate completed claim form. If it looks like it will take longer than that, we will let you know as soon as possible and explain why it's taking longer than expected.

What do I do when I'm ready to go back to work after a disability leave?

Your claim analyst will work with you throughout the process and can help you design an appropriate return-to-work schedule when you are no longer disabled. Please notify him or her when you know your return-to-work date.
Equitable's full suite of insurance products
NEW MEXICO RESIDENTS: Please be advised that this Suite of Insurance Products section of our website is not currently directed to, applicable to, or intended for any person residing in the state of New Mexico.
* Maternity leave short-term disability benefits are subject to employer election and may be offset by any eligible state benefit.
These products only provide disability income insurance THESE POLICIES ARE NOT MEDICARE SUPPLEMENT PLANS. They do NOT provide basic hospital, basic medical or major medical insurance as defined by the New York State Department of Financial Services. The policies have limitations and exclusions. Optional riders and/or features may incur additional costs. Plan documents are the final arbiter of coverage. Policy Form/Contract AXEBP15DI; MOEBP15DI and State Variations.
All group insurance products are issued either by Equitable Financial or Equitable America, which have sole responsibility for their insurance and claims-paying obligations. Some products are not available in all states.