Encourages you to keep your teeth healthy and can pay all of your preventive dental treatment costs when you see an in-network dentist
Regular dental care is one of the best ways to maintain a winning smile and protect your overall health. Equitable's dental network offers access to more than 117,000 credentialed dentists so you can receive the care you need, including routine cleanings, fillings and major dental procedures, and potentially orthodontia and teeth-whitening benefits.
Protection worth smiling about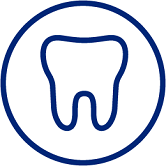 More than 1 in 4 adults in the United States have untreated tooth decay.1
1https://www.cdc.gov/oralhealth/basics/adult-oral-health/index.html
Equitable's full suite of insurance products
NEW MEXICO BROKER, EMPLOYERS, AND RESIDENTS: Please be advised that this Suite of Insurance Products section of our website is not currently directed to, applicable to, or intended for any person residing in the state of New Mexico.
The policy has limitations and exclusions. Optional riders and/or features may incur additional costs. The policy provisions may vary or be unavailable in some states. Plan documents are the final arbiter of coverage. Policy form MOEBP15DEN; AXEBP15DEN; MOEBP18DEN; and state variations.
All group insurance products are issued either by Equitable Financial Life Insurance Company or Equitable Financial Life Insurance Company of America, which have sole responsibility for their insurance and claims-paying obligations. Some products are not available in all states.
GE-3744775.1
(
09/2021
)
(Exp.
09/2023
)